Read Grateful
November 1st – 30th, all ages challenge.
This November, practice an attitude of gratitude! Learn what gratitude is all about, practice expressing gratitude to yourself and others, and check out awesome book recommendations for all ages. Log your reading and complete activities to earn badges all month long.
Two people will win $50 cash, donated by the Friends of the Library. One winner will be ages 0-17 and one will be 18+.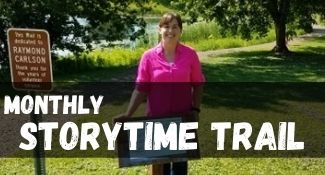 Storytime Trail
Find a Storytime Trail along the new Raymond Carlson Trail in O.J. Falge Park.
The story is updated monthly spring through fall.
This project was made possible through the generosity of the Servite Center for Life and in cooperation with the City of Ladysmith.
Battle of the Books Reading Lists