Hallow-Read Around the World
October 1-31st
Read all month long and complete activities to earn badges.
Spooky season is upon us! In the U.S., Halloween is a holiday full of merrymaking, magic, and mischief. Many cultures celebrate life and death through rituals and celebrations with their communities.
Learn about the origins and practices of various Halloween-like traditions around the world.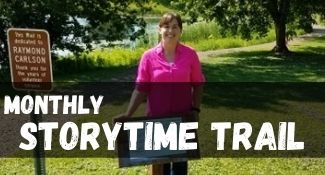 Storytime Trail
Find a Storytime Trail along the new Raymond Carlson Trail in O.J. Falge Park.
The story is updated monthly spring through fall.
This project was made possible through the generosity of the Servite Center for Life and in cooperation with the City of Ladysmith.
Battle of the Books Reading Lists